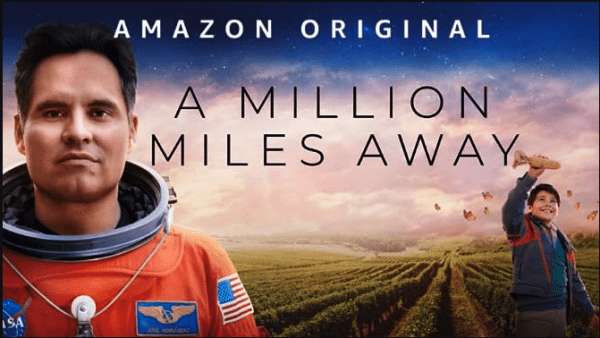 I was listening to the latest Eric Metaxas podcast (about half way through this episode), and he happened to be interviewing Jose Hernandez. He was a US Astronaut that went from migrant farm worker (when he was young) all the way to NASA. On his mission, he was in space for 13 days. He wrote a book, but just recently had a movie made about his incredible life – A Million Miles Away (on Amazon Prime!).
Unbelievable, right?
It's not just that this man went from a migrant farm worker to an astronaut. But his perseverance was nothing short of incredible. He was quite literally never going to stop until he reached his goals.
Familia
I loved how the movie showed how Hernandez's father encouraged him by helping him focus on what he wanted to do. He was not aimless in his pursuits, rather laser focused on going to space since he was about 10 years old.
At one point in the movie, he had been married for six years. His wife hadn't even known about his continued attempts (at this point in the movie, he had received his 6th rejection letter) on becoming an astronaut. Hernandez kept saying it was just a dumb dream. But clearly that "dumb dream" was not going to die. He was driven to pursue it.
Fortunately, the night that his wife found out what he was doing was a pivotal moment. She asked him a simple question – what do those other applicants have that you don't? He didn't focus on the color of his skin (even thought it WAS mentioned). Rather, Hernandez focused on the merits of his fellow applicants and where he fell short. He recognized that the qualifications they had would cost a lot of money and sacrifice for him to get. But his wife was willing to lay aside her dreams of opening a restaurant so that he had a chance to fulfill his dreams. How beautiful is that?
Life Lessons
There are so many life lessons to be learned in this movie. The sacrifices made by Hernandez's family when he was young were incredible. Hernandez's patient and understanding wife, who pretty much single handedly raised their 5 children, was inspiring. And of course, the sacrifices made by Hernandez himself were amazing. He was willing to compare himself to others and see where he fell short. Then he did a very courageous thing – instead of being sad or frustrated or angry about it, he got focused and started working towards those goals so that he could finally reach his ultimate goal.
NASA rejected this man's application not once, not twice, but ELEVEN times. ELEVEN!! I can't imagine how hard it would have been to pick myself up after each of those rejections. Was it worth it? Would this dream ever even happen? Why was he putting himself and his family through this?
Discouragement and perseverance
I think we can all relate to becoming discouraged after receiving some "no's." I appreciated how the movie didn't hide the hard work and sacrifices made by essentially everyone in the Hernandez family.
But finally, he got his long awaited yes. After persevering and never giving up, he sent out that 12th application. By the grace of God, he got the yes to go to NASA. He was 42. What an incredible testimony. Apparently, the "dozen-th" time's the charm! Something like that.
That man persevered and eventually was accepted into NASA. Then after several months of training, he became the very first migrant worker to ever become an astronaut. Despite the odds, he did it!
Important movie
This is an important movie for so many different reasons. It shows that if you want something bad enough, you can do it. Especially if you live in the United States. Each of us are so blessed to be Americans!
The movie also teaches us how wonderful and foundational family is. The family of Hernandez supported and encouraged one another, while selflessly sacrificing for the sake of the bigger goal. This is a wonderful biblical concept (Philippians 2:3) personified in this particular family.
And finally, big goals are difficult. Of course, most of us only see the outcome – migrant becomes astronaut! But the consistent sacrifices and ups and downs of reaching towards our goals is a reality of achieving our goals. We must learn not just to accept that, but embrace it. That process is what makes us into the people who can shoulder the blessing of reaching big goals.
I can't encourage you enough to watch this movie! Definitely a great choice for a family movie night!